PIC Workshop OFC 2018
With an increasing momentum for photonic integration and last year's PIC workshop attracting over 378 attendees, this year will see the fifth workshop on photonic ICs at OFC. The PIC workshop is unique in the sense that it offers a material-independent one-stop-shop for anyone wanting to get started in photonic integration. The workshop is free of charge, but does require advance registration. Food and drinks will be provided and there is plenty of opportunity to network and interact with PIC service providers.
5th Workshop on Photonic Integrated Circuits at OFC
Wednesday March 14, 2018 from 5:45pm to 8:30pm (with registration opening at 5:15pm)
Room 29ABCD at the San Diego Convention Center
The advent of 100Gbps and beyond in both longhaul as well as datacom marked the breakthrough of photonic integration in a broader sense. As a result of this, PICs are now also being used e.g. in sensing, life sciences, and military applications and there is thus a growing group of people that are starting to design and use photonic chips.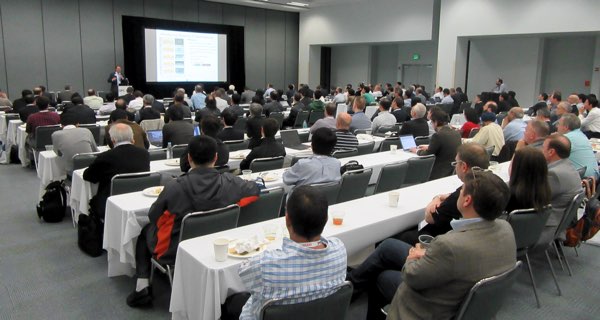 However, the PIC value chain can be complex as one needs to make choices for the material system, the foundry and/or broker, the design and layout software, packaging solutions and so on. The aim of the PIC workshop is to bring together all the relevant players independent of material system and to provide an in-depth overview that allows you to make the right trade offs and to get to know the key PIC service providers. There will be a particular focus on multi-project wafer (MPW) shuttles together with the accompanying Process Design Kits (PDKs), since these substantially lower the cost of developing a PIC, provide a complete solution, and reduce the PIC development time.
The PIC workshop starts with a detailed overview of everything that you need to know in order to design, fab, and package a photonic chip. Subsequently there is a networking break during which you can interact with the key PIC service providers, who have table tops and provide useful information. During the break, food will be served and there will be drinks. After the break, there are several use case presentations by companies that are using photonic ICs and that are sharing their experiences.
OFC 2018 marks the 5th consecutive PIC workshop at OFC. Each year the PIC workshop attracted a larger audience (over 378 people in 2017) and each year the workshop format has been improved. In 2017, a larger number of design S/W vendors will participate, which thus allows for a thorough overview of critical design tools. In addition, several test & measurement solution providers are joining, so that T&M can be addressed from a PIC perspective. The key note presentation now starts with a market overview and will focus on summarizing the latest trends for photonic integration in several areas.
The workshop will be highly interactive and there is room for additional questions and discussions at the end.
For any questions about the PIC workshop, please contact Erik Pennings at erik@7pennies.com or (848) 228-0807.
The PIC workshop will be held on Wednesday, March 14th, 2018 from 5:45pm to 8:30pm, i.e. right after the conference and exhibition finish for that day. The workshop takes place in conjunction with OFC at the San Diego Convention Center in Room 29ABCD.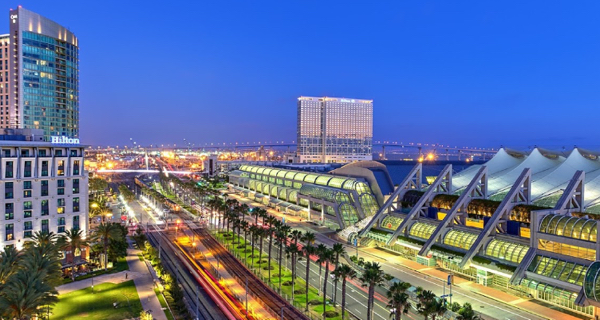 5:15 PM – 5:45 PM: Registration, Buffet Opens, Sponsor Tabletops, and Networking
Keynote Session Chaired by Erik Pennings, 7 Pennies Consulting
5:45 PM – 5:50 PM: Welcome and Introduction (Erik Pennings, GM & Principal, 7 Pennies)
5:50 PM – 6:55 PM: Keynote Presentation "Latest Trends in Photonic Integration and How to Use the PIC Ecosystem to Develop a PIC Cheaper and Faster":
Market Trends for Photonic Integration (Erik Pennings, GM & Principal, 7 Pennies)
InP-Based Integrated Photonics (Martin Schell, Executive Director, HHI)
Dielectrics Based Photonic Integration (Arne Leinse, COO, LioniX International)
Silicon Photonics (Timo Aalto, Research Team Leader, VTT)
Design, Simulation, and Layout Tools (Frank Scharf, Team Lead, CST)
Packaging (Ana Gonzales, PIXAPP)
Test and Measurement (Francois Couny, Product Line Manager, EXFO)
PIC Design Houses (Inigo Artundo, CEO, VLC Photonics)
6:55 PM – 7:00 PM: Question and Answer Session
7:00 PM – 7:40 PM: Networking Break with Buffet and Sponsor Tabletops
Use Case Session Chaired by Tom Hausken, OIDA and Jose Pozo, EPIC
7:40 pm – 7:50 PM: Silicon Photonics Process Design Kits (PDKs) at AIM Photonics: 50G and beyond (Erman Timurdogan, Director of PDK Development, Analog Photonics)
7:50 PM – 8:25 PM: Use Case Presentations by Companies Sharing Their Experiences Using Photonic ICs
Michael Hochberg, CTO, Elenion Technologies
John Bowers, Director (Institute for Energy Efficiency) & Professor, UCSB
Nigel Wing, Technical Manager, Derma Lumics
Chris Coleman, Senior Member of Research, Keysight Laboratories
Andrew Rickman, Founder, CEO & Chairman, Rockley Photonics
8:25 PM – 8:30 PM: Questions and Answers, Wrap-up
The workshop is supported by a wide group of service providers to the PIC industry. It includes foundries for pretty much all the relevant material systems, providers of simulation and layout software, packaging houses, test and measurement, as well as providers of turn-key PIC design solutions. The common denominator for all these companies is that they support multi-project wafer (MPW) runs and process design kits (PDK), which are a great and cost-effective way to develop PICs. We are in the process of confirming additional sponsors, and will update the list accordingly. Please find below the list of sponsors for the PIC workshop.

VPIphotonics sets the industry standard for end-to-end photonic design automation comprising design, analysis and optimization of components, systems and networks. We provide professional simulation software supporting requirements of integrated photonics, optoelectronics and fiber optics applications, optical transmission system and network applications, as well as cost-optimized equipment configuration. Our team of experts delivers professional consulting services addressing customer-specific modeling and design requirements. VPIphotonics' award-winning off-the-shelf and customized solutions are used extensively at hundreds of corporations worldwide; over 160 academic institutions joined our University Program. For further information, please visit us at www.VPIphotonics.com.

Luceda Photonics wants photonic IC engineers to enjoy the same first-time-right design experience as electronic IC designers. Luceda Photonics' tools and services are rooted in over 50 years of experience in photonic integrated circuit (PIC) design. Photonic Integrated Circuit (PIC) designers need full control of their design framework to make sure that what they fabricate matches exactly how they designed it. In addition they need to be able to re-use and distribute their design work in a hierarchical framework that saves time and improves reliability. IPKISS.flow is a scripting environment that covers the complete photonic IC design flow up to measurement feedback for true component validation. What you layout is what you calculate. IPKISS.eda inside L-Edit combines these stringent photonic design demands with the ease of use of a professional yet easy to use EDA environment. (http://www.lucedaphotonics.com/en).

CST develops and markets high performance 3D simulation software for electromagnetic, photonic, and multi-physics applications. The success of CST's main tool, CST STUDIO SUITE, is based on the implementation of leading edge technology in a user-friendly interface. CST's customers are market leaders in industries as diverse as Telecommunications, Defense, Automotive, Electronics, and Medical Equipment. Today CST employs 300 sales, development, and support personnel, and enjoys a leading position in the high frequency 3D EM simulation market. CST is part of Dassault Systemes, a global leader in the simulation software market and the maker of SOLIDWORKS, CATIA, and Abaqus. (https://www.cst.com).

Synopsys' Optical Solutions Group is a leading developer of optical design and analysis tools that model all aspects of light propagation, enabling users to produce accurate virtual prototypes leading to manufacturable optical systems. Synopsys provides innovative solutions to the most complex optical engineering challenges: LucidShape® products for automotive lighting, LightTools® illumination design software, CODE V® imaging optics design software, RSoft™ products for photonic and optical communications system design, and PhoeniX Software tools for photonic integrated circuit (PIC) layout and verification.
The RSoft products and PhoeniX Software tools provide PIC design automation solutions that serve industries including optical communication, optoelectronics, semiconductor manufacturing, data communications, sensors, and biomedical devices. RSoft products provide a full range of design, optimization and planning tools for optical communications, as well as solutions for optoelectronics components and subsystems. PhoeniX Software tools add photonic-aware physical layout capabilities, enabled by support for foundry-specific process design kits (PDK). For more information, visit https://www.synopsys.com/optical-solutions.html. visit www.synopsys.com/optical-solutions.html.

Photon Design was started in 1992 in Oxford UK to provide professional quality software to the photonics industry. Since that time it has introduced many innovations to photonics modelling, and now provides World-leading tools for the modelling of active and passive photonics components and circuits. Photon Design products are now in use in 30+ countries, 100s of research labs and contributed to 1000s of leading research publications, helping to develop the next generation of datacom components and innovations in micro and nano-optics. We are also able to provide custom solutions based on our standard products and our experts with decades of simulation experience are available for consulting. (https://www.photond.com)

VLC Photonics aims to be a complete but flexible partner in photonic integration, thanks to its deep expertise in the whole integration process, from the preliminary feasibility studies, to fabrication platform selection, optical chip design, foundry and packager brokerage, and chip characterization and test. Our know-how includes multiple passive and active components like AWGs, MMIs, Echelle gratings, modulators, lasers, switches, filters, etc. VLC Photonics has been working for more than 15 years in the field, with experience in all major international fabs (+15) in all main material substrates (silicon photonics, InP, GaAs, PLC, SiN, TriPleX, etc.). Backed up by this long term relationship with all the major foundries, the company is now releasing a report providing an extensive technical coverage of manufacturing providers of Photonic Integrated Circuits (PICs) to facilitate decision making and long term planning. Our field of expertise is mostly in optical telecommunications. datacom and optical interconnects, microwave photonics, quantum optics, and sensing systems like fiber sensor interrogators or biophotonics Iab-on-a-chip. (http://vlcphotonics.com).

The American Institute for Manufacturing Integrated Photonics (AIM Photonics), is an industry driven public-private partnership that focuses the nation's premiere capabilities and expertise to capture critical global manufacturing leadership in a technology that is both essential to National security and positioned to provide a compelling return-on-investment to the U.S. economy. The Institute's goal is to emulate the dramatic successes experienced by the electronics industry over the past 40 years and transition key lessons, processes, and approaches to the photonic integrated circuit (PIC) industry. AIM Photonics supports Small and Medium Enterprises, providing practical access and technology on-ramps for U.S. industry, government, and academic communities. We are creating a National PIC manufacturing infrastructure, widely accessible and inherently flexible to meet the challenges of the marketplace with practical, innovative solutions. (www.aimphotonics.com)

VTT Technical Research Centre of Finland Ltd engages in applied technology research, transforming its research results into practical solutions. VTT Ltd uses its research and knowledge to provide expert services for its domestic and international customers and partners in both the private and public sector. VTT Ltd is Finland's biggest applied research organisation and the Nordic countries' leading research and technology company. As one of the first pioneers in the field, VTT has developed it's silicon photonics technology since 1997. Its micron-scale SOI technology has been offered through MPW runs (ePIXfab) since 2014. Now the 3 µm SOI platform is expanding from passive and thermo-optic circuits to high-speed active components in close collaboration with industrial customers and partners. 
(www.vtt.fi/siliconphotonics)

CEA (Commissariat à l'Energie Atomique et aux Energies Alternatives) is a French Governmental Research Organization (15,000 employees). Within the "CEA-TECH" branch devoted to industrial Research & Development, CEA-LETI is one of the major European research centers in applied electronics, optics and sensing. It is located in Grenoble-France where it operates 11,000 m²-State-of-the-Art CMOS clean rooms (200 and 300 mm wafer size), and a MEMS microsystems platform (200 mm wafer size). Nearly 1,600 men and women are serving innovation and the transfer of technology in key domains. Besides, CEA-LETI has sparked the creation of thirty high-technology start-ups, including Soitec, world leader in the development/ production of Silicon on insulator wafers.
As a pioneer in Research & Development in Silicon Photonics (since 2002), CEA-LETI has developed strong expertise and know how in the design, fabrication and test of integrated devices (including Ge-on-Silicon photodetectors and hybrid III/V-on-Silicon lasers) and circuits for telecom and datacom applications. ST microelectronics is one of its main industrial partner in the field. (http://www.cea.fr/english/Pages/cea/the-cea-a-key-player-in-technological-research.aspx)

JePPIX is a broker that helps organizations around the globe to get access to advanced fabrication processes for Photonic Integrated Circuits (PICs). JePPIX aims at low-cost development of application specific PICs using a generic foundry model and rapid prototyping via industrial Multi-Project Wafer runs. The generic approach allows a variety of PICs to be realized using the same standardized processes. JePPIX closely collaborates with Europe's key players in the field of photonic integration, including manufacturing and packaging partners, photonic CAD software partners, R&D labs and photonic IC design houses. With JePPIX you can get access to the Indium Phosphide (InP)-based monolithic integration platforms of Oclaro, Fraunhofer HHI and SMART Photonics and the low-loss dielectric TriPleX waveguide technology of LioniX. JePPIX is hosted by the Eindhoven University of Technology in the Netherlands. For more information visit our website: (www.jeppix.eu).

Fraunhofer HHI The core competencies of Fraunhofer HHI are in the areas of Photonic Networks and Systems, Mobile Broadband Systems, Photonic Components and Electronic Imaging. Within the Fraunhofer mission "to undertake applied research of direct utility to private and public enterprise and of wide benefit to society", we offer research, development and production services in all our activities to the German and international industry. The activities of the Photonic Components Dept. are focused on the following – mainly InP based- optical components for tele- and datacom, and optical sensing applications. Components such as: Photonic Integrated Circuits, Integrated hybrid InP and Polymer PLC components, THz Components, Discrete devices, DOE and related devices, InP MOVPE; e-beam lithography; process development; & Qualification support. (www.hhi.fraunhofer.de).

LioniX International B.V. is a leading global provider of customized microsystem solutions, in particular integrated photonics-based, in scalable production volumes. We provide customized solutions for OEM's and System Integrators, from design to device, by vertical integration in scalable production volumes and maintaining technology leadership secured by strong IP position. As LioniX International we focus on Photonic Integrated Circuits (PIC) enabled modules based on our proprietary waveguide technology (TriPleX™), in addition to our other core competences micro-fluidics, opto-fluidics and MEMS. As vertically integrated company  we deliver a complete solution to our OEM customers: from initial design through volume manufacturing of products.
LioniX International B.V. has been established in April 2016, funded by Panthera Group B.V. and YMK Photonics Co., Ltd. LioniX International B.V. is a private company and has been established in April 2016, following the acquisition of SATRAX B.V., XiO Photonics B.V., LioniX B.V. and OctroliX B.V., which initiated the technology development of photonic integrated circuits for a suite of applications since 2001. Currently LioniX International employs nearly 50, highly educated people, and its management has experience in the micro/nano system technology for decades. (www.lionix-int.com)
LIGENTEC is offering wafer scale fabrication of silicon nitride photonic integrated circuits (PIC) for applications in telecom/datacom, quantum optics, optical (bio-)sensing. The propriatory low loss waveguide technology together with the low bending losses that thick film nitride enables paves the way to new integrated applications. Thick silicon nitride chips can thus scale down to four times in cost compared to thin film silicon nitride. The combination of cost scaling and low loss is resulting in more cost-effective solutions. (https://www.ligentec.com)

Chiral Photonics (CPI), a New Jersey, US based company founded in 1999, specializes in optoelectronic packaging of integrated photonics.  CPI offers its pitch reducing optical fiber arrays, PROFAs, which enable the highest density optical I/Os for both edge and face coupling to photonic ICs. Currently, up to 61 I/O channels can be coupled in a single port.  Other services range from single-die optical coupling or optoelectronic package development, including test services, to volume optoelectronic production packaging.Please contact us to obtain our free coupling and packaging design guidelines: designguide@chiralphotonics.com.

PIXAPP is the world's first open-access Photonic Integrated Circuit (PIC) Assembly and Packaging Pilot line, and helps users exploit the breakthrough advantages of PIC technologies. PIXAPP consists of a highly-interdisciplinary team of Europe's leading industrial & research organisations, and provides users with single-point access to PIC assembly and packaging. The Pilot Line Gateway Office is PIXAPP's the easy-access interface for external users, and is located at the Tyndall National Institute, in Ireland. The Gateway is managed by an experienced team, including technical experts to review incoming user requests, and project managers to organise the PIXAPP supply chain. PIXAPP bridges the 'valley of death' often associated with moving from prototyping to low-volume fabrication, by giving companies an easy-access route to transferring R&D results to the market. www.pixapp.eu.

EXFO develops smarter network test, monitoring and analytics solutions for the world's leading communications service providers, network equipment manufacturers and webscale companies. Since 1985, we've worked side by side with our customers in the lab, field, data center, boardroom and beyond to pioneer essential technology and methods for each phase of the network lifecycle. Our portfolio of test orchestration and real-time 3D analytics solutions turns complex into simple and delivers business-critical insights from the network, service and subscriber dimensions. Most importantly, we help our customers flourish in a rapidly transforming industry where "good enough" testing, monitoring and analytics just aren't good enough anymore—they never were for us, anyway. For more information, visit EXFO.com and follow us on the EXFO blog. (https://www.exfo.com).

As electronics become smaller and more capable, they become more complex. Necessary innovation must be met with ever-advancing technical capability. Tektronix designs and manufactures the test, measurement and monitoring solutions that break through the walls of complexity, to accelerate global innovation. Tektronix solutions have supported many of humankind's greatest advances of the past 65 years. Health. Communication. Mobility. Space. We are committed to the scientists, engineers and technicians around the world who will define the future, and rely on us to embrace the technological challenge, as partners in their innovation (www.tek.com).

Keysight Technologies, Inc. is a leading technology company that helps its engineering, enterprise and service provider customers accelerate innovation to connect and secure the world. Keysight's solutions optimize networks and bring electronic products to market faster and at a lower cost with offerings from design simulation, to prototype validation, to manufacturing test, to optimization in networks and cloud environments. Customers span the worldwide communications ecosystem, aerospace and defense, automotive, energy, semiconductor and general electronics end markets.(Keysight Technologies)

With our unparalleled 45-year history, BCC Research provides comprehensive analysis of global market sizing, forecasting and industry intelligence, covering markets where advances in science and technology are improving the quality, standard and sustainability of businesses, economies and lives. Combining our historical knowledge with our deep roster of industry experts creates market research with accurate forecasting, astute analysis and actionable insights. Industry leaders choose BCC Research when they need more than just information, but instead require meaningful insights, spirited commentary, deep analysis by industry experts and accurate forecasts.

EPIC is the industry association that promotes the sustainable development of organisations working in the field of photonics in Europe. We foster a vibrant photonics ecosystem by maintaining a strong network and acting as a catalyst and facilitator for technological and commercial advancement. EPIC publishes market and technology reports, organizes technical workshops and B2B roundtables, coordinates EU funding proposals, advocacy and lobbying, education and training activities, standards and roadmaps, pavilions at exhibitions. (www.epic-assoc.com)

OSA Industry Development Associates (OIDA) Membership–Delivering Business Value through Best-In-Class Member Benefits and Exceptional Advocacy. OIDA membership provides an immediate return on investment through: powerful advocacy to policymakers and other stakeholders, business and networking opportunities, Industry intelligence and benchmarking and discounts on promotional opportunities and events. (http://www.osa.org)
Speakers: Key-Note Presentation


Martin Schell is professor for Optic and Optoelectronic Integration at Technical University Berlin and director of the Fraunhofer Heinrich Hertz Institute HHI, Berlin. Martin Schell joined HHI in 2005. From 2000 to 2005, he was first product line manager, then head of production and procurement at Infineon Fiber Optics. From 1996 to 2000 he was management consultant at The Boston Consulting Group. Before that, he spent one year as a visiting researcher at The Tokyo University, Japan. He received the Dipl.-Phys. degree from the RWTH Aachen in 1989, and the Dr. rer. nat. degree from the Technical University Berlin in 1993. Martin Schell is a board member of the European Photonics Industry Consortium (EPIC), speaker of the board of OptecBB (Competence Network Optical Technologies Berlin/Brandenburg), member of the Photonics21 Board of Stakeholders, and member of the Public Policy Committee of the Optical Society of America. (www.hhi.fraunhofer.de)

Arne Leinse Ph.D., Chief Commercial Officer at LioniX International, received a M.Sc. degree from the University of Twente in the integrated Optical Microsystems group in 2001. In this same group he started his Ph.D. work on the topic of active micro-ring resonators for various optical applications. His Ph.D. work was carried out in the framework of a European project (IST 2000-28018 "Next generation Active Integrated optic Subsystems") and his thesis was titled: "Polymeric micro-ring resonator based electro-optic modulator". In 2005 he joined LioniX B.V. where he was project-/account manager involved in several integrated optical projects and involved in the strategic roadmap of the technology and LioniX B.V.. LioniX B.V. merged into LioniX International B.V. per April 1st 2016. (lionix-international.com)

Dr. Timo Aalto has worked at VTT since 1997 with silicon photonics as his main research topic. He received M.Sc. and D.Sc. degrees in optoelectronics technology from the Helsinki University of Technology in 1998 and 2004, respectively. Presently he leads VTT's Photonics Integration team, which operates the two main clean room facilities of VTT Ltd. in Espoo and Oulu. The team is developing silicon and polymer waveguide circuits, hybrid integration of optoelectronics, and photonics packaging. He has >60 journal, conference and workshop publications. His invited contributions include the review of projects, theses and publications, many presentations and writing a book chapter. (www.vtt.fi/siliconphotonics)

Frank Scharf obtained his Ph.D. in Electrical Engineering from Ruhr-Universitaet Bochum, Germany. During his graduate studies, he focused on modeling and simulating the plasma sheath in high intensity discharge lamps. Frank joined CST Germany in 2008 and transferred to CST of America in 2009. He currently works as a Principal Application Engineer and coordinator for optical applications. (https://www.cst.com)

Ana González is currently Project Leader at EPIC (European Photonics Industry Consortium). Her expertise relies on the development of systems based on integrated photonic circuits, packaging and assembly, and the investigation of applications such as chemical/biological sensing and Datacom. In addition, she has been involved in technology transfer and business development processes. She received her Bachelor's degree in Chemistry from the University Autonomous of Barcelona (UAB) and her PhD degree from the Catalan Institute of Nanoscience and Nanotechnology (ICN2). (www.epic-assoc.com)

François Couny is Product Line Manager for EXFO Optics Test & Measurement instruments. He started his career in 2001 as a Test & Measurement engineer at Blaze Photonics, a start-up company specialized in Photonic Crystal Fibre and completed his Ph.D. in Photonics in 2008 at the Centre for Photonics and Photonic Material at the University of Bath (UK). He went on to join Yenista Optics in 2010 with a focus on developing tuneable laser sources and spectral solutions, including an Optical Spectrum Analyzer and also an optical component tester adapted to photonic integrated circuits characterization. Since 2015, François has been PLM for Yenista Optics, now part of EXFO as EXFO Optics. (www.exfo.com)

Inigo Artundo (CEO): Obtained the M.Sc. in Telecom Engineering at the Universidad Publica de Navarra (Pamplona, Spain) in 2005, and received his Ph.D. in Applied Physics and Photonics at the Vrije Universiteit Brussel (Brussels, Belgium) in 2009. He has been involved in several national and European research projects and networks of excellence focused on reconfigurable optical interconnects, the design, fabrication and characterization of micro-optic devices, and on flexible access and in-building fiber network architectures. He has worked as a reviewer for several scientific journals and national funding agencies. He holds specializations in Business Financing, Commercial Management and Research, and Strategic Marketing. He is a member of IEEE, SPIE and COIT. (www.vlcphotonics.com)
Speakers: Use-Case Presentations


Erman Timurdogan is the Director of PDK development at Analog Photonics (AP). He is defining the roadmap and leading the documentation, design and verification of APSUNY process design kit (PDK) at AIM Photonics. His focus is electronic-photonic components for high speed communications and low power photonic systems. Before joining AP, he received his Ph. D. and M. S. in electrical engineering and computer science in 2016 from the Massachusetts Institute of Technology (MIT). During his studies at MIT, he demonstrated ultra low power silicon modulators, a 3D integrated silicon electronic-photonic communication link and the first silicon based efficient second harmonic generator, all on 300mm silicon-on-insulator wafers. He authored over 50 peer-reviewed conference, journal publications and issued patents which were cited over 1000 times. He has 3 publications in Nature Publishing Group. (www.analogphotonics.com)

Michael Hochberg's career has spanned the space between fundamental research and commercialization since his time as an undergraduate in physics at Caltech.   He and his collaborator, Tom Baehr-Jones, developed a design tool for the accurate simulation of silicon photonic components as part of their research and spun the effort off as a company called Simulant.  He co-founded his second company in silicon photonics, Luxtera, during his senior year.  After returning to Caltech for his post-graduate degrees, he completed his MS and Ph.D. in applied physics at Caltech in a total of three years. Since that time, Michael has held faculty positions and run research groups at the University of Washington, University of Delaware, and the National University of Singapore, and has held appointments in various departments including Electrical Engineering, Chemical and Biomedical Engineering, and Materials Science. He currently holds a visiting appointment at Columbia University. Michael was the Director of the OpSIS foundry-access service, which built a community of hundreds of silicon photonic designers around the world. OpSIS was the first organization to offer silicon photonic multi-project wafer runs including a library of passive devices, high-speed modulators and detectors, and an integrated PDK. Michael has won a number of awards for his work, including an NSF Graduate Research Fellowship, the Demetriades-Tsafka Prize for the best thesis by a graduating Ph.D. student in the field of nanotechnology at Caltech, a U.S. Air Force Young Investigator Program Award, a Singapore National Research Foundation Fellowship, and a Presidential Early Career Award in Science and Engineering, which is the highest honor granted by the US government to young scientists. He has published numerous papers and patents, and his work has been cited over 5000 times in the scientific literature. (elenion.com)

John Bowers is Director of the Institute for Energy Efficiency and a professor in the Departments of Electrical and Computer Engineering and Materials at the University of California, Santa Barbara. His research interests are primarily concerned with silicon photonics, optoelectronic devices, optical switching and transparent optical networks and quantum dot lasers. Bowers received the M.S. and Ph.D. degrees from Stanford University. He worked for AT&T Bell Laboratories and Honeywell before joining UCSB. Bowers is a fellow of the IEEE, OSA and the American Physical Society, and a recipient of the IEEE Photonics Award, OSA/IEEE Tyndall Award, the IEEE LEOS William Streifer Award and the South Coast Business and Technology Entrepreneur of the Year Award. He is a member of the National Academy of Engineering and the National Academy of Inventors.

Nigel Wing graduated from the University of Hertfordshire with a degree in Manufacturing Systems Engineering in 1990. He has over 20 years managerial experience in all areas of manufacturing operations (Manufacturing, Quality, Supply Chain, Process Engineering, Maintenance, Excellence System) primarily in the automotive industry. Having completed a European MBA at IMEA in France, his career has taken an international orientation working in Switzerland, France, UK, Spain and Mexico in renown international groups including Nestlé, Faurecia, Valeo and Gonvarri. A firm advocate of Continuous Improvement / LEAN cultures, Nigel, previously Technical Manager, is presently the General Manager of DermaLumics SL. (www.dermalumics.com)

Chris Coleman received his PhD degree in Optical Science from the College of Optical Science, University of Arizona, USA, in 1998. Since then he has held positions in optical and photonics research with the Hewlett Packard Corp., Agilent Technologies, Avago Technologies, and Keysight Technologies, where he is currently a senior member of research staff in Keysight Laboratories. Chris's current research interests include tunable laser architectures, high-bandwidth opto-electronic transducers, microwave photonics, and photonic integrated circuits. (keysight.com)

Dr Andrew Rickman OBE is the founder, CEO and Chairman of Rockley Photonics Limited based in the UK, Finland and Pasadena, CA. Rockley Photonics is a rapidly expanding company, formed with a team of colleagues highly experienced in previous successful technology ventures, to develop novel optical packet switching solutions for mega datacentre networks. Andrew was previously the founder, CEO and Chairman of Bookham Inc. (now called Oclaro Inc. [NASDAQ: OCLR] and headquartered in San Jose, CA. Andrew founded Bookham in 1988, grew the company from a start-up to a FTSE100 company. More recently he was Chairman of Kotura Inc., and was instrumental in its development and ultimately successful sale for $82 million in 2013 to Mellanox® Technologies, Ltd. Andrew has a mechanical engineering degree from Imperial College, London; a PhD in silicon photonics from Surrey University; an MBA from Cranfield University. He was awarded an OBE in the Queen's Millennium Honours list for services to the telecommunications industry. (rockleyphotonics.com)
To download all PIC OFC workshop presentations, we ask you to provide us with some basic info. After submitting the form below we will check the data you submitted and send you an email with the download link. The download file consists of the following presentations: Overview PIC workshop (7 Pennies), Presentation Erman Timurdogan (Analog Photonics), Presentation Nigel Wing (DermaLumics), Presentation Chris Coleman (Keysight Technologies), Presentation Andrew Rickman (Rockley Photonics).
PIC ARCHIVE
For more info, please check out the archived earlier photonic integration events: